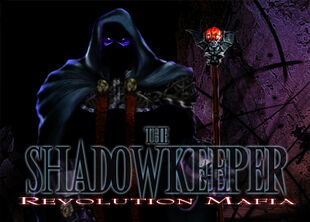 DayLight Games are designed for 16-25 players and are considered full games. Day Phases last 48 hours and Night Phases last 24 hours.
We have played a number of DayLightGames on Revolution Mafia covering a wide range of themes.
DayLight Mafia Games Played (starting with the most recent):
Final Fantasy VIII Mafia
Edit
Hosted by Dunny and Flyin' High
Date: October 11, 2011 to November 12 2011
Winners: LittleTiger and Golden
Canivals Call: SKK
Edit
Hosted by Rabbit
Date: August 26 2011 to September 18th 2011
Winner: Lost Badger
Super Mario Mafia
Edit
Hosted by Flyin' High
Dates: July 24, 2011 to August 25, 2011
Winners: DisgruntledPorcupine, jska, Kate, and Manu
dates played: May 16th, 2011 - June 17th, 2011
winners: Black Rock, blindfaeth, and Tranq
hosted by S~V~S and Juliets Coffee
dates played: January 21st, 2011 - February 22nd, 2011
winners: The Civvies and Moobyworld
hosted by fingersplints and blindfaeth
dates played: November 20th, 2010 - December 19th, 2010
winners: Juliets Coffee, LittleTiger, Sophie, thelostlaurens, and Zelda
This game was blindfaeth's first attempt at hosting, and the debut game of both Golden and chefcharity. The game utilized a several unique game mechanics, including "alter ego" screenames which veiled the true identity of players and gender specific roles. The game ended prematurely when Manu (Ford Parker, and previously Earl E. Bird) was lynched on Day 10; this is because DooberDoes (who was lynched as Jacqueline Hide on Day 5) replaced kiddo as Aileen Dover, who became absent after she had been recruited to the mafia team. Because she was the only member of her team left standing, and because she was the recruit (and because DooberDoes had already technically had her chance to win the game), fingersplints and blindfaeth decided the character would commit suicide.
Game mechanic problems: The game's gender specific roles made it very easy to narrow down things in a spreadsheet, and was ultimately the downfall of the mafia. Additionally, the desire to remain anonymous behind one's secret identity became a language barrier to several of the forum's players whose first language is not English and drove them to ask for a replacement.
hosted by DooberDoes and Penny Lane
dates played: October 3rd, 2010 - October 23rd, 2010
winner: Clueless
hosted by rabbit8
dates played: September 2nd, 2010 - September 23rd, 2010
winners: Bea, Black Rock, DFaraday, Flyin' High, and Typhoony
hosted by Yossarian2342
dates played: August 9th, 2010 - September 1st, 2010
winners: fingersplints, Kate, Matahari, and rabbit8
hosted by unfurl and LittleTiger
dates played: March 27th, 2010 - April 24th, 2010
winners: DooberDoes, rabbit8, ripzfx, and Rosalind
-----